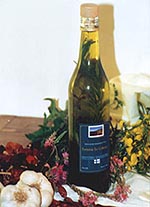 EXTRA VIRGIN OLIVE OIL:
COLMATE EXTRA VIRGIN OLIVE OIL
It is an excellent olive oil from the olive-trees of central Tuscany. It is obtained by the traditional cold pressing which lents it freshness and an intense, sweet and fruity scent. It has a golden-yellow color and an acidity lower than 0.8%.
EXTRA VIRGIN OLIVE OIL WITH COLMATE AROMATIC HERBS
All these products are obtained with the combination of our extra virgin olive oil with organic aromatic herbs raised in our gardens: oil with garlic and hot pepper, oil with garlic, oil with hot pepper, oil with scented mushrooms, oil with truffles, oil with basil, oil with sage and rosemary.