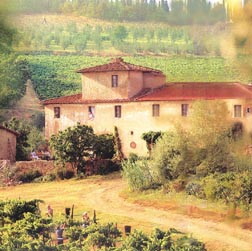 Via di COLMATE N°4
50053 EMPOLI
Tel +39 0571 931444 - Fax +39 055 757029
P.IVA 04865140489

L'azienda Vinicola "Le Colmate", nasce da una idea intrapresa nel lontano 1968, quando Leena Kiiskinen e Salvadore Pintus, dalla Finlandia, decisero di venire in Toscana per produrre un grande vino di qualità. Adesso, dopo più di 30 anni, la famiglia e l'azienda, cresciuta di numero, con l'ingresso delle 2 figlie, oltre che di mezzi e capacità, può dire che la scommessa è stata vinta. I vini e gli oli che attualmente vengono prodotti, combinando la tradizione e la tecnologia, sono eccellenti da tutti i punti di vista. L'azienda e situata tra le colline di S.Miniato ed il Fiume Elsa, con 10 ettari di vigneto, altri ad olivrto ed una cantina ricavata dalla fattoria seicentesca.


Viinitila LE COLMATE sai aloitekipinän silloin 1969, kun LEENA Kiiskinen ja SALVATORE Pintus päätti vät tulia Toscaanaan kasvattamaan laatuviiniä. Tila on suurentunut näissä 30:ssa niin laajuudessa kuintilan tuotannossa, huomioonottaen kahden tyttären osaanotto tilan hoitoon. Yhdistäen vanhan Toscaanan viini, ja öljy kulttuurin tekniikkaan saadaan parhainta laatua. Tila sijaitsee S. Miniaton ja Elsa-joen välillä ja koostuu, 10 heht viinitarhaa, öljypuita jm muuta. Viinikellari on vanhan v:lta 1600 olevan rakennukesen alakerrassa.
"Le Colmate" winery is the result of a dream begun in 1968 when Leena Kiiskinen and Salvatore Pintus left their Finland to come to Tuscany to produce wines of superior quality. Now, after more than 30 years , the winery has grown both in size as well as family. Leena and Salvatore's two daughters are active in the vineyard.. So we can say they made sound investments. The wines and the oils that are being produced combine both tradition and technology resulting in products of the highest quality.
The winery is located between the hills of S.Miniato and the river Elsa, with 10 hectares of vineyards as well as other land devoted to olive groves and to the cellar, a piece of history from the seventeenth century farm.